Rialbo products preserved in oil: a piece of land brought to the table
Returning from your Apulian experience there is a gift for you, or for who is waiting for you at home, to remind you of the flavours and scents of a land which has captured your heart, a way to travel with all your five senses through  Rialbo's land: the products conserved in oil of  Gustapane's farm are this and a lot more.
The scent and the purity of this land express themselves fully in our 200,300,500 gram jars containing the typical Apulian flavours which are seasoned and valued to their best thanks to our special extra virgin olive oil.
They are ideal to garnish "bruschetta" and other simple dishes but are also perfect and refined ingredients to be used in innovative recipes to become the connection between fantasy, ingenuity and the best Mediterranean traditions.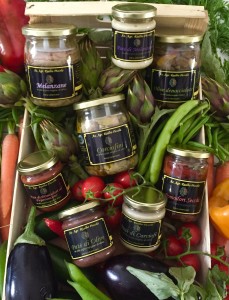 Pate' in extravirgin olive oil
Our Pate' in extra virgin olive oil packed in precious 212 gram jars, enshrine the typical features of the local agricultural products farmed and processed following the oldest traditions.
They are ideally used with light "antipasti" or to complement red, white or rose' wines, but they are also perfect to add a touch of class to any pasta dishes by seasoning them with fresh products. They are a precious gift to give or to be given if one loves the cuisine, tradition and  genuine flavours.
Olive Patè, For those who want to satisfy their whims for intense flavour;
Aubergine Patè,For those who want to enjoy a delicate taste with  sweet overtones;
Artichokes Pate', For those who want to taste strong flavours with imaginative combinations;
Dried Tomatoes Pate', For those who want a corner of Apulia always at the ready for their palate
Chili Pepper Pate':  For those who are not afraid of the table's spicy tones and  of life itself
Avere in dispensa un mix dei nostri paté ti permetterà di stupire i tuoi ospiti con pranzi e cene variegati e ricchi di gusto. Soprattutto… velocissimi!
Antipasto:

Fai abbrustolire leggermente delle fette di pane integrale casereccio e servile con un velo di ogni paté, alternando queste tapas mediterranee a pezzi di grana e mostarda.
Accompagna con vino leggero, meglio se rosato.
(non buttar via le briciole di pane ottenute mentre affettavi, torneranno utili per il primo)
Primo:
Spaghetti al paté e bruscolini.
Mentre attendi che l'acqua della pasta vada in ebollizione, fai saltare imbiondire uno spicchio d'aglio in una padella. Fai saltare in padella dei pomodorini appena tagliati (circa 150 grammi), quindi aggiungi 20 grammi di paté di carciofi e 10 grammi di paté di melanzane.
Scola la pasta e falla saltare in padella. A parte, fai abbrustolire in una padella con un filo di olio le molliche di pane integrale e aggiungile ai piatti. Per chi ama il piccante, aggiungere una puntina di paté di peperoncino sul bordo del piatto.
Secondo:
Peperoni al ripieno mediterraneo:
Mescola in una ciotola della feta (100 grammi), olive nere a pezzi irregolari, paté di pomodori secchi e pan grattato. Aggiungi olio extravergine di oliva Rialbo fruttato leggero, sale e menta.
Taglia a metà dei peperoni gialli, svuotali dai semi e ripuliscili, quindi riempili con il composto appena fatto. Ricopri con sottili fette di pomodoro e cuoci in forno pre riscaldato a 200 gradi per 30 minuti.
I Pomodori Secchi in olio extravergine di oliva possono apparire come una ricetta facile, ma non lo sono. Sono semplici, ma non facili. Per avere un prodotto eccellente come i pomodori secchi in olio extravergine di oliva delle aziende agrarie di Rialbo sono necessari ingredienti rari, unici: i pomodori coltivati come da tradizione sui nostri terreni, il nostro sole, i giusti tempi e modalità di essiccazione e, ovviamente, il nostro olio extravergine di oliva.
Tutti questi ingredienti messi insieme danno un prodotto dal sapore unico.
Ingredienti (per 4 persone):
quattro tazzine da caffè di riso integrale
un limone di dimensioni medio grandi
un bicchiere di vino bianco
60 grammi di pomodori secchi on olio extravergine di oliva Rialbo
un gambo di sedano
uno spicchio d'aglio
una patata
sale
olio extravergine di oliva fruttato medio Rialbo
Procedimento:
Fai riscaldare un pentolino d'acqua con dentro un gambi di sedano, una patata e succo di limone e una manciata di sale.
Fai riscaldare in una pentola un cucchiaio da cucina di olio extravergine di oliva. Pulisci lo spicchio d'aglio e schiaccialo leggermente con il coltello, quindi mettilo in padella e fallo imbiondire. Metti nella padella con l'olio caldo dei pomodorini secchi (circa 5-6) tagliati a striscette di dimensioni più o meno simili.
Metti il risotto nella padella e saltalo con i pomodorini secchi di modo da farlo tostare leggermente, ma non bruciare; dopo circa un minuto, aggiungi al riso il primo mestolo di acqua calda dal pentolino con il brodo di limone.
Quando sarà asciutto, sfuma con un bicchiere di vino bianco, quindi continua ad aggiungere l'acqua del brodo finché il risotto non sarà pronto. Nelle fasi di cottura, aggiungi per altre tre volte un pomodorino secco tagliato a striscette sottili (di modo che, a fine cottura del risotto, i livelli di cottura e consistenza dei pomodori secchi siano diversi, dando una gradevole sensazione al palato).
Verso fine cottura, trita la patata del brodo, ormai lessa, e amalgamala nel risotto.
Servi nei piatti con una spolverata di scorza di limone e un filo leggerissimo di olio extravergine fruttato medio a crudo.
Vegetable products conserve in extravergin olive oil
The vegetable products conserved in extra virgin olive oil of Gustapane's commercial farms are traditional jewels, in jars of 500grams, enclosing the changing of the seasons, patiently waiting and respecting the ancient traditional farming methods, the harvesting and the working of local products.
The choice varies amongst:
Artichoke hearts in olive oil, with an intense flavour of a product of the local farming tradition which marries with the artichokes crunchiness.To taste them is a  unique experience for the palate, made such by combining it with our EVO which protects and enhances all the organoleptic components and enriching a product born poor and becoming a dish of kings.
Aubergines in olive oil ideal to accompany the more flavoursome products of your table from mature cheeses to fresh salads. Cut in very thin slices which melt in your mouth they can match any flavour from the most simple one to the more complex, they are an ingredient which makes the difference on your table and in your larder. The farming of the original vegetable, its processes and the seasoning with our rare and precious EVO makes  Rialbo aubergines in oil a unique product.
Dried Tomatoes in olive oil are a local specialty which is enhanced by our gourmet olive oil, they are preserved in jars which maintain the essence of our processes, the patient waiting of the drying of the tomatoes under the Apulian sun and air, combined with the craftsmanship of the EVO production.Artichoke Hearts, Aubergines and Dried Tomatoes in olive oil are the ideal products for which masters create fantasy in the kitchen. Esthetically   royal, they are served together with other ingredients like cheeses, "friselle",bread, freshly baked breadsticks or as a side dish to simple and memorable main courses such as fish,white or red meat. They are also perfect to accompany any other Mediterranean flavours like cous-cous.
Pitted Olives in olive oil and Olives in brine, this product is ideal for those who want   to accompany  good wine with simple products to enhance all the flavours thanks  to their  rich and intense flavour.
Ingredienti:
150 grammi di cous cous
150 grammi di acqua
Un limone
Un mazzetto di fiori di lavanda secchi
Un mazzetto di fiori di malva, secchi
Un cucchiaino di semi di finoccio
20 grammi di olio extravergine di oliva Rialbo fruttato leggero
25 grammi di carciofini sott'olio Rialbo
25 grammi di melanzane sott'olio Rialbo
25 grammi di pomodorini secchi in olio extravergine di oliva Rialbo
Preparazione:
Far riscaldare (non bollire) l'acqua con del succo di limone e i semi di finocchio (e un pizzico di sale).
Intanto mettere in una ciotola il cous cous, strizzare i fiori di lavanda e malva secchi e un po' di scorza di limone. Mescolare con un filo d'olio. Quando l'acqua è calda, versarla sul cous cous e lasciar riposare sotto un coperchio per circa 10 minuti, finché l'acqua non sarà assorbita.
Quindi mescolare il tutto e servire con i carciofini, le melanzane e i pomodorini secchi le accanto o in cima alle montagnette di cous cous.